There are plenty of things to do near our Shenandoah Valley Bed and Breakfast, but one of the most popular is driving the Blue Ridge Parkway.  The Blue Ridge Parkway is one of the most famous drives to take in the country, and within just a few miles, you'll likely see why. The Blue Ridge Parkway stretches for 469 beautiful miles, starting in the north just south of Skyline Drive in Shenandoah National Park and ending in the Great Smoky Mountains National Park near Cherokee, North Carolina.
As wonderful as the Blue Ridge Parkway is this fall, you're going to want to extend your trip for at least a few days to enjoy it to its fullest.  That's where the exceptional accommodations at Steeles Tavern Manor come into play! Whether you want a more private, intimate getaway without any intrusions or prefer a more traditional stay in elegant guest rooms, our Bed and Breakfast on the Blue Ridge Parkway has what you are looking for. Book your room with us today!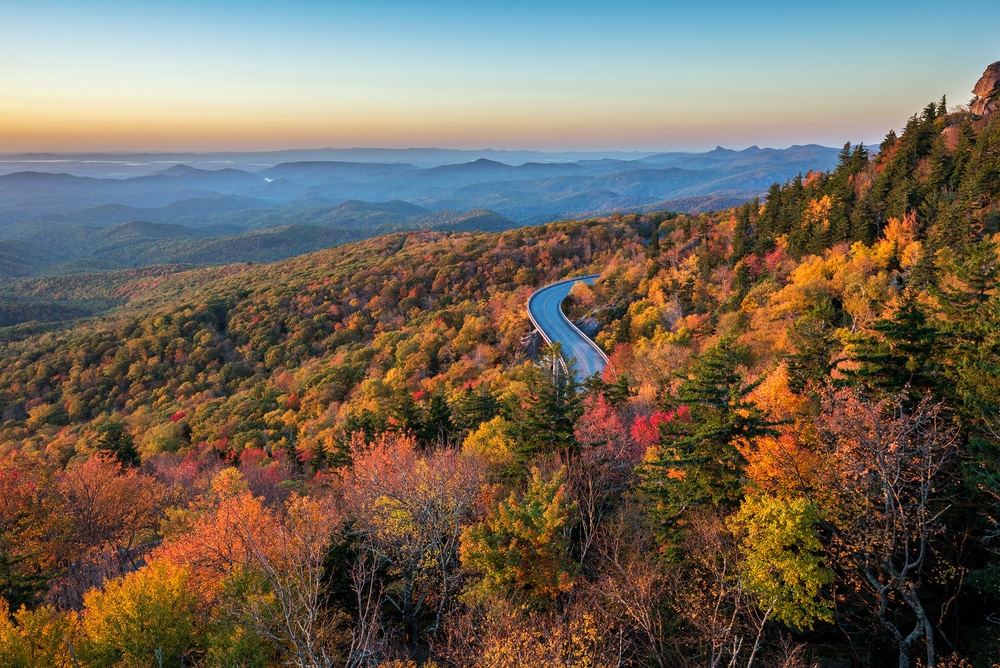 A Breathtaking Drive on the Blue Ridge Parkway
We're nearing the peak for fall foliage on the Blue Ridge Parkway, and it's already absolutely breathtaking. Mother Nature's canvas is a true masterpiece, with vibrant red, orange, yellow and green painting an unforgettable picture up and down the Shenandoah Valley. Fall foliage usually reaches peak color in mid to late October and often lasts well into the first week of November. Generally speaking, the farther north you are and the higher the elevation is where you'll see colors first. From there, they slowly spread down the mountains and towards the southern reaches of the state.
There are plenty of ways in which to enjoy fall on the Blue Ridge Parkway, too. Here are a few suggested ways to enjoy this beautiful season near our Bed and Breakfast on the Blue Ridge Parkway! It depends on how long you're staying at our Bed and Breakfast on the Blue Ridge Parkway and how busy you want to be.
Take one of the many scenic drives in the area. Depending on how far you want to drive, these drives can stretch for many miles. It's worth it, though, as on clear fall days, you can see for up to 50 miles.
Take a hike at the Peaks of Otter, one of the most popular destinations along the Blue Ridge Parkway. Hike to the top of Sharp Top Mountain, and you'll enjoy a spectacular 360-degree view of the Blue Ridge  Parkway. Another great trail in the area is the Johnson Farm Trail, which takes you to a historic farm from the 1880s restored to its 1930s condition.
Visit Crabtree Falls and other great waterfalls along the Blue Ridge Parkway.  To add to the romance of this excursion, ask us to pack you a delicious picnic to be enjoyed by the falls! Other incredible waterfalls include White Rock Falls, Wigwam Falls, Apple Orchard Falls, and Fallingwater Cascades.
Fall is a great time to enjoy apple-picking at local apple orchards.
Take a hike at At the Humpback Gap Overlook at Milepost 6. The Humpback Rocks Trail is a 7.8-mile roundtrip hike that will take you to Humpback Rocks, Humpback Mountain, and the Humpback Rocks Picnic Area.
Head to Apple Orchard Mountain Overlook at Milepost 76.5, which at 3,950 feet is the highest point on the Blue Ridge Parkway in Virginia.
Visit Natural Bridge State Park, which is home to one of the world's seven natural wonders. It's home to an impressive 215-foot tall Natural Bridge that formed when Cedar Creek eroded through this limestone gorge.
Visit Natural Chimney Regional Park. It is home to up to 120 feet rock formations, which tower high above the beautiful Shenandoah Valley below.
Visit one of the wineries or breweries in the area – perhaps not the most obvious way to enjoy the colorful fall season, but a surprising and delicious one at that!
You can stay here on our 50-acres of land. We have plenty of walking trails and great views for you right here! You don't even have to stray too far from our Bed and Breakfast on the Blue Ridge Parkway.
It's a popular misconception that the Blue Ridge Parkway closes down in the winter – but that's not true.  As beautiful as this drive is in the fall, it might even be more spectacular when the stark landscapes of winter come out to play. The roads do occasionally close down, so you'll have to keep an eye on the weather.  But, if they are open, this delightful winter playground is the perfect place to be! Here's a fun guide to enjoying the best of the Blue Ridge Parkway in the winter. As a bonus, you'll find that this busy stretch of road is a lot quieter in the winter!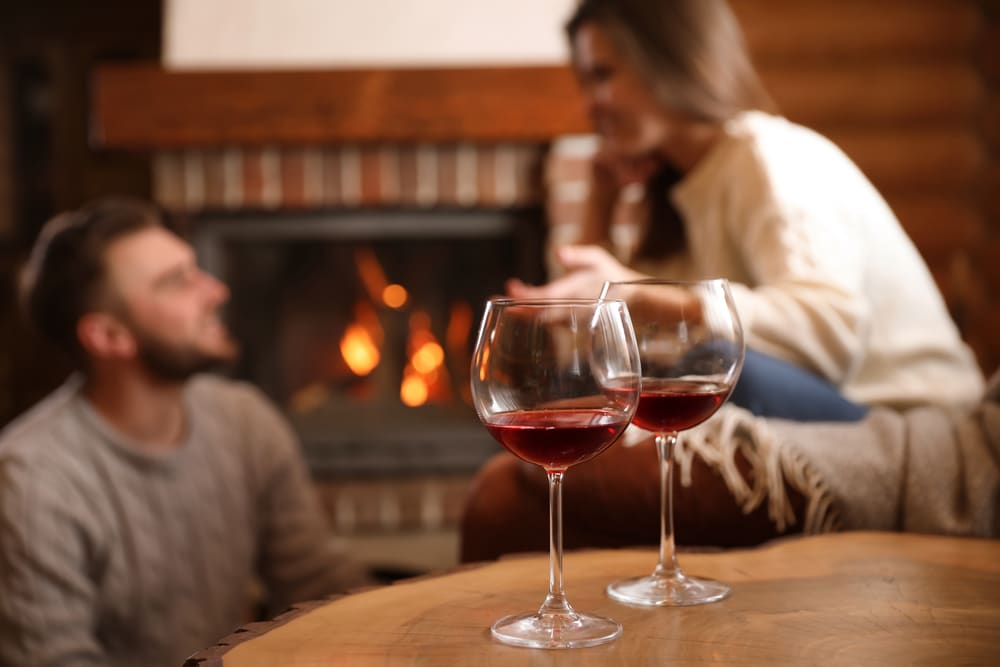 The Most Romantic Bed and Breakfast
This has been an epic year when it comes to road trips and backyard adventures.  We've loved celebrating every minute of it with the guests who have come through our doors and know we've made a lasting impression for return visits. If you haven't yet carved out time to visit our Bed and Breakfast on the Blue Ridge Parkway, this fall (or maybe winter?) is your perfect opportunity.
Our Bed and Breakfast on the Blue Ridge Parkway offers five elegant guest rooms in the Manor House, which come standard with a broad range of luxury amenities, including a hearty and delicious breakfast each morning of your stay. These guest rooms offer the most traditional hospitality experience.
However, if you're looking for something a bit more secluded and private for your romantic escape, consider booking one of our five cabins spread throughout the 50 acres of our property.  Each cabin comes standard with a king-sized bed, a private outdoor hot tub, a large bathroom, and a living room with a fireplace, along with full kitchens, gas grills, decks, and luxurious robes. In short, everything you need for an unforgettable weekend away!
Romance is at the very heart of what we do here at our Shenandoah Valley Bed and Breakfast.  We'd love nothing more than to share it with you before the year is over.  Book your room at our Bed and Breakfast on the Blue Ridge Parkway today!