Getaway Packages and Specials in the Shenandoah Valley
Planning a romantic mountain getaway in Virginia? Our packages provide the little details that will help make your time together in the beautiful Shenandoah Valley unforgettable. Please request any of our specials when you reserve your cabin or inn room. If you wish to add them on later to an existing reservation, just get in touch. 
As a veteran-owned business, we are proud to offer all honorably discharged Army, Navy, Marine Corps, Air Force, and Coast Guard veterans 10% off all best available rates.  It's our way of saying "Thanks."
Discount is only available for one room or cabin per veteran
Can not be applied to an already booked reservation
Discount not applicable for cabin one night reservations
Reservations must be phoned in, and discount requested at time of booking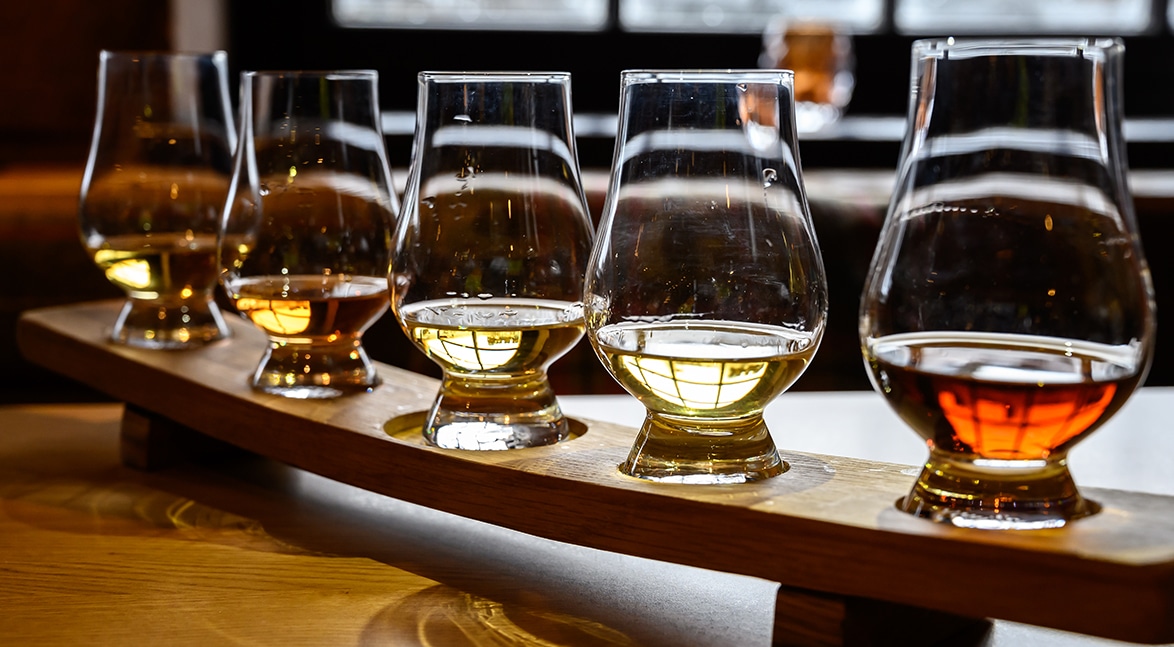 Explore the exciting world of bourbon with a tasting experience.  Trey is a bourbon enthusiast, and he will guide you through the tasting sharing his knowledge of the spirit and industry while tasting a selection of fine bourbons.
Virginia Flight- $30  While 95% of the bourbon in the world is made in Kentucky, Virginia has some exceptional distilleries. Explore three of these from the Old Dominion, and discover that you don't have to go to Kentucky for some great bourbon.  
Kentucky Standard Flight- $25   Enjoy some well known, affordable, and easy to find whiskeys. This is a great option for someone who is beginning their bourbon journey and wants to learn more about this fascinating spirit. 
Kentucky Premium Flight- $45  A treat for experienced bourbon fans or someone wanting to sample a hard to find bourbon before spending the big $$$ on a bottle.  Each flight will contain at least one sample of a limited release or hard to find bourbon.
Old Fashioned set up- $5  Bring your own bottle and we'll provide all the other ingredients for this timeless cocktail.
Each tasting flight consists of 3 3/4 ounces samples.  Limit of one tasting per guest per day.
When checking in, please let us know if you're interested, and we'll schedule a time for your tasting.
Beerology 101 (Manor Guests Only)
Cost: $25
Do you love beer?  How about beer for breakfast?  The Shenandoah Valley is known for many great things; mountain hikes, quaint towns, beautiful views…and beer!  This package is designed for beer lovers who want to get their Shenandoah Beerwerks Trail tour started right here at STM.
Your beerology package includes:
A variety 6 pack of Virginia craft beer
A mini loaf of beer bread, made by Dana, using Wade's Mill beer bread mix
2 beer pairings with your breakfast one morning
"Steele" in Love Romance Package
Cost: $130
Add a little extra romance to your visit with fresh roses, sparkling wine, and Cocoa Mill chocolates.
Make your own moments in the Shenandoah Valley. This is one of the best getaway packages for you and your sweetheart. Think about relaxing on the front porch, soaking in your jacuzzi tub, or snuggling in your room in front of your fireplace. It doesn't need to be a special occasion for you to treat your significant other. Now that you have chosen us for your getaway stay, drive away the stress, relax, and reconnect with one another with our Romance Package.
Enter your room with the smell of fresh roses. Raise your glasses and toast with a bottle of sparkling wine. Then bite into decadent locally made hand crafted Cocoa Mill chocolates. Surprise your partner with an extra touch by including a special note. Just talk to Dana to include any special add-ons to your package!
Package includes a dozen red roses, bottle of sparkling wine, and box of Cocoa Mill chocolates.
We request a minimum of 5 days notice prior to check in for this package.
Crabtree Falls Picnic Package
Cost: $45
One of the most popular day hikes in Virginia is
Crabtree Falls
. It is approximately 12 miles from us off the Blue Ridge Parkway near milepost 27. Crabtree Falls is the highest vertical-drop cascading waterfall east of the Mississippi River with a series of five major cascades among smaller ones that fall a total distance of 1,200 feet. This adventure is one of our most memorable getaway packages. 
The first overlook is a short distance from the parking lot and follows a gentle meandering paved trail. Continue walking along a 3-mile path to four other overlooks with spectacular views. From the upper falls, the trail follows the creek another 1.2 miles to Crabtree Meadows. There is a daily $3 parking fee per vehicle at the public parking area.
Our Crabtree Falls Package includes:
Trail map
List of our favorite picnic spots
Picnic for 2 including 2 sandwiches (STM pimento cheese, turkey & cheese, or chicken salad), homemade pasta salad or dixie caviar, fresh fruit, STM cookies, 2 bags of Route 11 chips, and 2 bottles of water
Let us know your sandwich and salad selection when booking your reservation. Include the information in the notes section when booking online or call Dana at 540-377-9494.
We request a minimum of 5 days notice prior to check in for this package.
Cost: Starting at $55
Celebrate a special event with that someone special.
Your romantic getaway will never be better than here at Steeles Tavern Manor! Your package includes a bottle of red or white wine from Rockbridge Vineyard, a 4 piece box of local Cocoa Mill chocolates, Simply Cheddar Cheese Ball, and crackers. You can substitute a six-pack of local Virginia Craft Beer or non-alcoholic sparkling cider for the wine. 
Please let us know the reason you're celebrating and your beverage preference to customize your package.  If there's a specific type of wine you'd prefer please call for pricing and availability.
Cost: Starting at $30
Had a busy day and want a quick bite to eat without leaving the Manor? Let us serve you a variety of meats, cheeses, nuts, crackers, olives, peppers, and chocolates on a hand crafted serving board with one of our most delectable getaway packages. Exact items vary by availability. Serving for one: $30, serving for two: $60
Cost: $40
Celebrating a birthday or another special occasion?
A perfect way to celebrate! These 2 layer, 6-inch round shaped cakes can be decorated for your special occasion. Baked by a local Lexington bakery, choose your specialty batter (chocolate, French vanilla, lemon, marble, red velvet, or spice) and either White or Chocolate butter cream frosting.
Gourmet fillings available: chocolate or mocha mousse, cream cheese, lemon crème, strawberry or raspberry preserves.
Call Dana at least 5 days prior to arrival with your choices so she can order the cake.
Grill your Own Steak Dinner (Cabin guests only)
Cost: $65
Be your own chef! Your dinner package will be waiting in your cabin when you arrive. Have fun grilling your steaks together on your gas grill to your personal liking, and prepare the other dinner items with little effort. Then relax to a quiet dinner together without the hassle of driving to a restaurant. 
Our steaks are purchased locally from Buffalo Creek Farm in Lexington. The Potter family has been raising beef cattle for more than 100 years. Their cattle are fed a custom mixture of farm-grown silage, brewers' grain, and pelleted corn, which produces beef that is subtly marbled and tasty.
These steaks are extremely tender and rival any steaks you'll find at a quality steak house.  Call us to add a bottle of local wine (or beer) to your package for the perfect dinner.  This package includes:
Two 8-oz Chuck Eye Steaks
Two potatoes, ready to be baked (w/ butter and sour cream)
Fresh mixed salad with Italian and Ranch dressings
Baguettes or bread 
Dessert for two
We request a minimum of 5 days notice prior to check in for this package.
Breakfast – Like a Local (Cabin guests only)
Cost: $50
We'll deliver locally sourced breakfast items for you to prepare in your cabin.  This package is a great value as it contains enough ingredients to prepare 2 breakfasts for 2 people.
Let us gather the local items from nearby farms and local markets so you can make great breakfasts in your cabin kitchen. We know our local farmers because they reside in our "neighborhood" and frequent our local Farmers' Markets.
So try a sampling of fresh breakfast foods from the Shenandoah Valley!  Your breakfast package will be waiting for you in your cabin when you arrive. 
This package includes:
1 dozen farm fresh local eggs
1 lb local bacon (Buffalo Creek Farm)
Wades Mill Pancake mix (Raphine)
Virginia Maple Syrup (Puffenbarger's Sugar Orchard, Highland County, Va)
Home made breakfast bread
Amish fresh butter (Stuarts Draft)
2 bottles of orange juice
Bottle of milk
We request a minimum of 5 days notice prior to check in for this package.
Breakfast Basket (Cabin guests only)
Cost: $30
Sleep late and wake up to a delicious "skip lunch" continental breakfast. Your breakfast basket will be waiting for you in your refrigerator upon your arrival.  We kindly request a 48-hour notice for this breakfast option.
Your breakfast basket for 2 contains:
Muffins or breakfast cake
Homemade granola
Milk
Juice
Yogurt
Fresh fruit
We request a minimum of 5 days notice prior to check in for this package.
Cost: Beginning at $60
Of all our getaway packages, this one is sure to brighten your stay!
Make your stay more romantic with flowers! We will arrange to have fresh flowers in your room or cabin prior to your arrival. If you want something special, just let us know! 
Call and speak to Dana at least 5 days prior to arrival to order your flowers.
Cost: $15
After a fun day of exploring the Shenandoah Valley wind down and relax at the firepit with our S'mores package.  
Package includes graham crackers, chocolate bars and marshmallows for several S'mores.  Add a bottle of local Virginia wine for an enjoyable romantic evening.