Things To Do In The Shenandoah Valley
Steeles Tavern Manor is conveniently located for your vacation in the Shenandoah Valley, midway between Lexington and Staunton Virginia. The Shenandoah Valley is a collection of small communities rich in history and natural resources and abounds with a variety of attractions and things to do and see, including breweries, vineyards, theatre, and outdoor activities. While the farm to table movement has been catching on in big cities around the country lately, it's been the norm in the Shenandoah Valley for generations.
Our Custom Map Of Area Attractions. Please Zoom In Closer To See Them All.
Stroll down West Beverly Street and you'll immediately know why Staunton has been named as one of the top 10 Small Towns for Culture by USA today and one of the Best Small Town Main Streets by Country Living Magazine. Just a short drive north of Steeles Tavern Manor, this beautiful mountain town has a vibrant, thriving downtown with small boutiques, cafes, restaurants, art studios, breweries and wine tasting rooms. A favorite of the locals, the Saturday farmers' market (seasonal) is always worth a visit.  Also noteworthy is Gypsy Hill Park with its famous bandstand and free Bluegrass music shows on Wednesday summer evenings.  Sunspots Studios is another "must see" attraction.  It has daily glass blowing demonstrations and a large retail space featuring the work of local artisans.  The best ribs around are served daily at Mill Street Grill, a popular restaurant located in the basement of a former flour mill.  Aioli Restaurant is a great pick for a quiet dinner for two.
Voted as one of the best Best Southern Small Towns, Lexington is a short 20 minute drive south of Steeles Tavern Manor.  Known for its history and beautiful Main Street, this small college town is home to both the Virginia Military Institute and Washington and Lee University, established in 1839 and 1749 respectively.  You'll find numerous museums, historical sites, shops, and restaurants in this quaint southern town.  For a quick lunch sandwich check out Sweet Treats Bakery, or, for the best fried chicken in The Valley, you'll want to eat at the Southern Inn.
If you're touring the Blue Ridge Parkway or planning a hike at Crabtree Falls consider staying with us as we're located a short 6 miles from the parkway.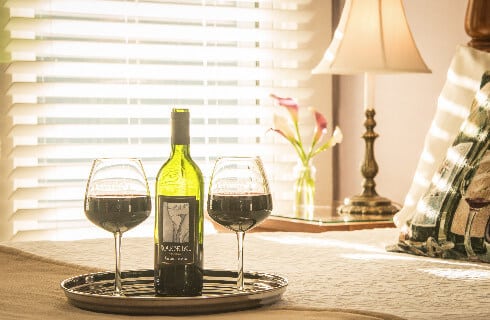 Dining, Wineries, and Breweries
Award-winning Restaurants, Wineries, and Breweries are right in our backyard.
Wineries:
Breweries:
Cideries:
Restaurants: 
We are happy to make reservations or offer recommendations.
Close to Steeles Tavern Manor:
Staunton: 
Lexington: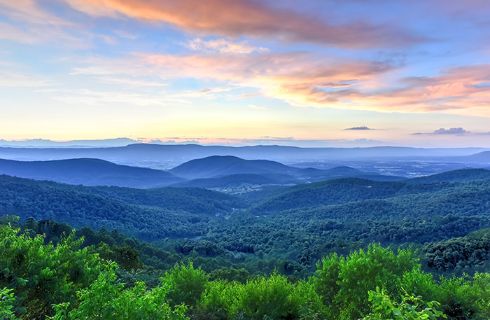 Great adventures await you, right outside our front door.
The list of exciting outdoor activities available in the Shenandoah Valley and Blue Ridge Mountains is too extensive to list here so we've come up with a few of the most popular options.  Feel free to give us a call if you're looking for some suggestions.
Biking
The Shenandoah Valley and Blue Ridge Mountains are beautiful settings for riders of all abilities. Check out these links for some great rides. Several are just a short drive from us.
Hiking
You'll find many hiking trails in our area including Crabtree Falls, the highest cascading waterfall east of the Mississippi. This hike is a favorite of our guests. Just 13 miles from Steeles Tavern, Crabtree Falls trail features a series of five major cascades and a number of smaller ones that fall a total distance of 1,200 feet.  Ask us for the local hiking trail maps.
Canoeing and Kayaking
For the adventurous DIYers here's a Paddling Guide to our local rivers and streams.  There are also several companies throughout the valley that offer guided float trips.  A couple close to STM are Wilderness Canoe Company in Natural Bridge and Twin River Outfitters in Buchanan.
Golf
Lexington Country Club, Vista Links in Buena Vista, and The Club at Ironwood in Staunton are thirty minutes away.
Horseback Riding
Guided horse trail rides on registered Tennessee Walking horses or horse drawn buggy rides at Appalachian Horse Adventures. Only 9 miles from the Inn on Rt 56. Trails wind down country roads, through scenic forests, past trickling streams. Best way to see our beautiful mountains!
Caving
The Shenandoah Valley has many great caverns open to the public.  Both the Grand Caverns and Luray Caverns are a short drive from us.  These are especially fun on cold or rainy days when you might not want to venture outside.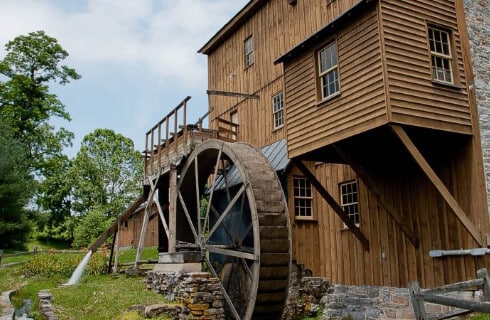 History, Sights, and More
Since we're "In the Middle of it All" check out these activities and sights in the area.  COVID 19 has impacted the operating hours of many of these sites.  We recommend you check directly with them to see if they are open.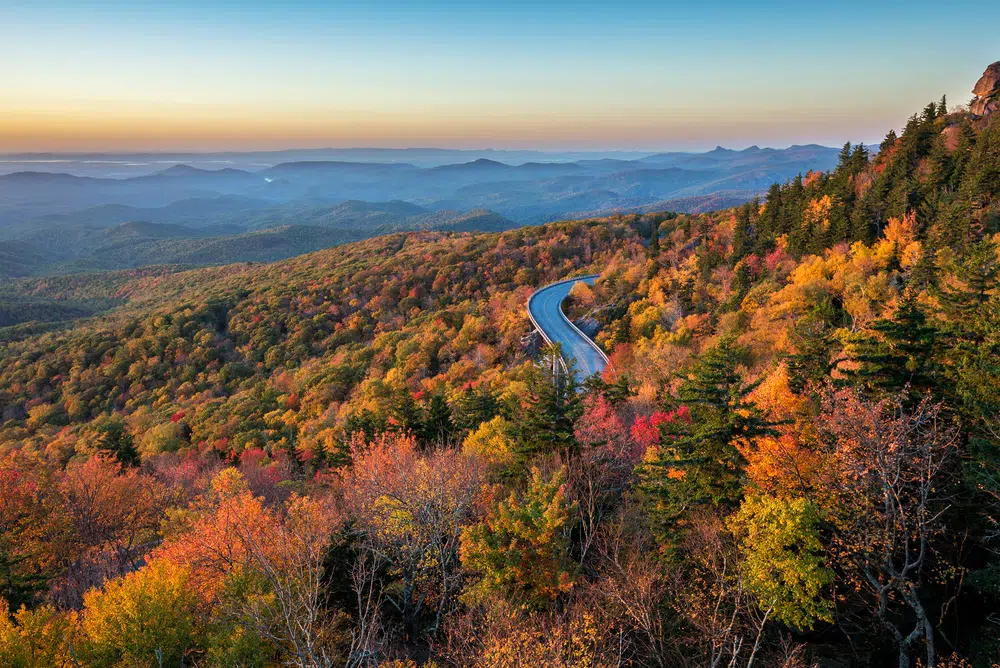 Did you know the Blue Ridge Parkway was recently named by Travel and Leisure magazine as the most beautiful place in Virginia?  We completely agree! 
There are limited access points to get onto the Parkway, and Steeles Tavern Manor is only a short 6 mile drive to the access point at mile post 27.
If you head north, there are several scenic overlooks within a few miles that are worth pulling over for.  Head south and enjoy a beautiful drive to the next access point near Buena vista and Lexington at mile post 45.  Either way you can't go wrong! Be sure to take our Crabtree Falls picnic with you because there are no stores on the Parkway. 
Some Blue Ridge Parkway interesting facts:
-The Parkway is a administered by the National Park Service and is the most visited park in the NPS with over 15.9 million visitors in 2021
-It is America's longest linear park and runs for 469 miles through 29 Virginia and North Carolina counties.
-Unlike it's cousin to the north (Skyline Drive National Park), there is no fee to drive on the Parkway.