There are many holiday traditions in the Shenandoah Valley. Here are some of the holiday happenings to get us into the holiday spirit and, in some cases, help local children have a brighter Christmas. 
On Saturday, December 7, 2019 you have the opportunity to visit a number of businesses in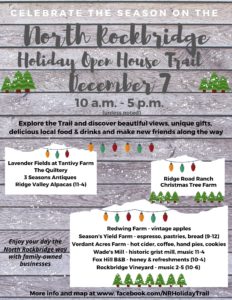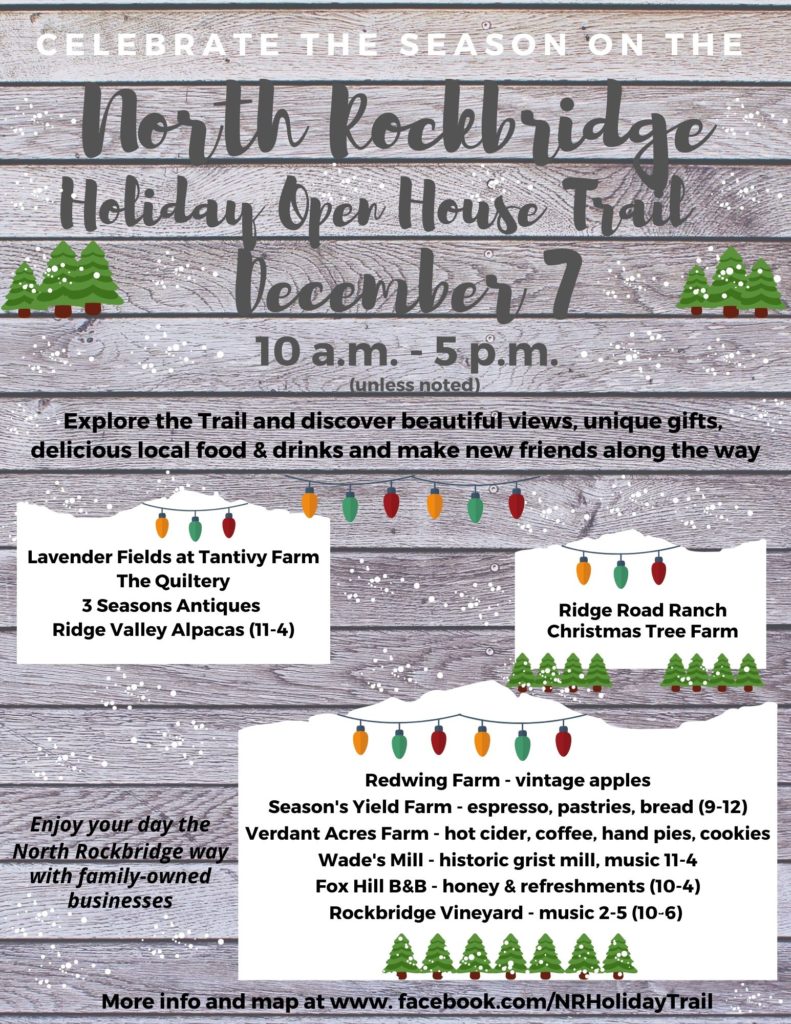 our neighborhood. The North Rockbridge Holiday Open House Trail will run from 10am to 5pm (at most businesses) and includes family-owned businesses in the northern part of our county. See and purchase gifts such as quilts, flour from an historic grist mill, local wines, antiques, local produce, and even your Christmas tree!
The Lexington, VA area has lots of traditions that go along with ringing in the holiday season. The Fourth Annual Festival of Trees will start on November 28, 2019 and continue until January 1, 2020. This wonderful collection of Christmas trees can be found at Natural Bridge State Park. Start at the visitor center at 6477 South Lee Highway, Natural Bridge, VA. Local businesses and organizations decorate the trees with various themes, colors, and some unusual "ornaments." Visitors are asked to donate items by placing them under their favorite tree. The items needed are school supplies, gloves, hats, scarves, and socks to be given to students in the Rockbridge County Schools. Visit this wonderful display between the hours of 8:00am and 5:00pm each day. 
Another very traditional service of music and stories happens at Washington and Lee University on Thursday, December 5, 2019 at 8:00pm. The Festival of Nine Lessons and Carols will be shared by the University Singers at Lee Chapel on the university campus. This candlelight service has been a tradition at W&L for over 80 years. Experience this peaceful evening of special music, the reading of lessons, prayers, and hymns. 
After the quiet service on Thursday night, join the fun downtown on Friday, December 6, 2019 at 6:00pm for the Downtown Lexington Christmas Parade! The theme for this year's parade is "Festive Friends Furry & Feathered." All the parade floats and costumes will reflect the feathered or furry idea of Christmas. Main Street will be included in the route of the parade and will light up with decorated floats and fire trucks! Expect to see some furry friends marching along with scout troops, church groups, politicians, and local business owners and employees.
Everyone knows that it isn't Christmas without "The Nutcracker!"  Lexington, VA has its own performance of this traditional and well-known and loved ballet. The Shenandoah Ballet will perform their 10th season of this classic story of Clara and her nutcracker-turned-prince. The performance will be held at Lenfest Center for the Arts, 100 Glasgow Street and is scheduled on December 13 at 7pm, December 14 at 2pm and 7pm, and December 15 at 3pm. 
There are also fun holiday happening in Staunton, VA. The traditional Christmas parade steps out on Monday, December 7 at 7pm. The theme for Staunton's kick-off for the holidays is "Small City, Bright Lights, BIG Christmas!" Country music stars Wilson Fairchild will lead the parade and of course Santa and Mrs. Claus will be on the final float in the parade.
Holiday Lantern Tours are available at several sites in the Staunton area. At the Frontier Culture Museum, experience history as you are guided through the Museum by lantern light. You will witness some vignettes from Ireland, England, Germany, and early times in America. These tours will be available December 13-15 and 20-23 from 5:30pm to 8:30pm. The cost is $15 for adults and $8 for children.  
Bring a flashlight and a friend and join a Lantern Tour of the Woodrow Wilson Manse at night. You will learn some of the holiday traditions of the time and enjoy some light refreshments characteristic of the time. The event is family-friendly and will be held on December 7 and 27, 2019 at 7:15pm. 
Plan your stay at Steeles Tavern Manor B&B for all these traditions of the season! We will provide some fantastic Christmas cookies – a tradition in our families – and a luxurious place to rest between all these activities. Make your reservation now.