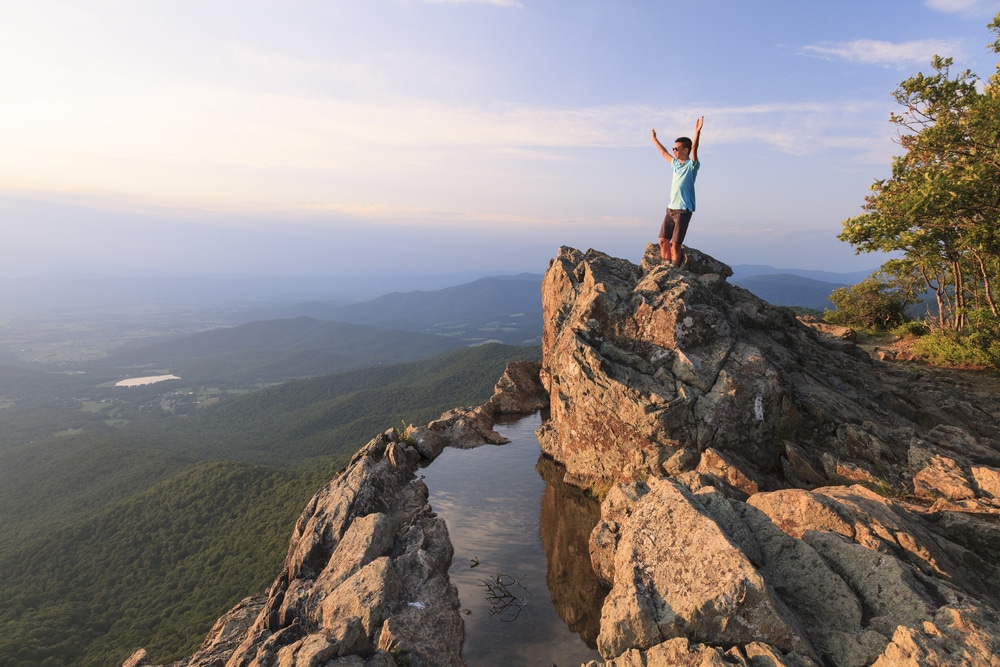 If you're a thrill seeker who enjoys traversing challenging trails, you'll want to plan a day at Shenandoah National Park hiking. Of course, there are many trails which offer all varying levels of difficulty, from an afternoon stroll to full day climbing excursions, all with glimpses of flowing waterfalls, 360 degree vistas, wildflowers and quiet wooded forests.
With more than 200,000 acres, Shenandoah National Park has over 500 miles of hiking trails, which can feel overwhelming when you're starting to plan your outdoor adventure. When you stay at the Steeles Tavern Manor, you'll be just under an hour's drive to the Southern end of Shenandoah National Park. The drive there is through quintessential Virginia wilderness and will be all part of the fun.  When staying in one of our luxury cabins in Virginia you will be close to all of the hiking trails in the park.
Our Shenandoah Valley Bed and Breakfast is centrally located between the two picturesque towns of Staunton and Lexington. On your stay here, you'll feel like you're nestled in a remote part of the Shenandoah Valley, but still within easy driving distance to many area attractions and outdoor activities. After a day at Shenandoah National Park hiking the beautiful nature trails, you'll love coming back to relax at our Virginia Inn.
Come be in the middle of it all in the Shenandoah Valley and book your room at Steeles Tavern Manor today!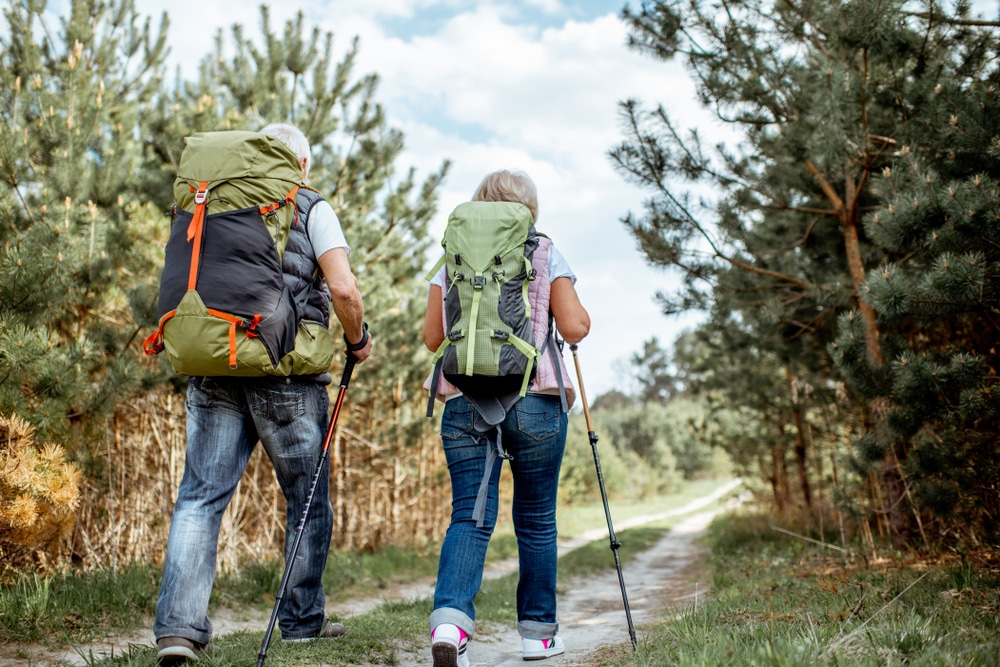 Where to Enjoy Shenandoah National Park Hiking in 2021
The Shenandoah National Park hiking options are numerous and vast—with more than 500 miles of trails! It might be tricky to know where to start, so here we'll catalog some of the Shenandoah National Park hiking trails by level of difficulty and distance to give you some insight on how to plan accordingly.
Here are 9 trails for Shenandoah National Park Hiking that might fit your itinerary:
Easy/Shorter Hikes:
Blackrock Summit: This one-mile loop brings you to the viewpoint on top of a rocky slope with panoramic views of Massanutten Mountain and the Shenandoah Valley. This is rated as an easy one for all levels of hikers.
Stoney Man Trail: For more incredible views of the Shenandoah Valley, this hiking trail is just over 1.5 miles and is considered an easy go for all skill levels. You'll find some very Instagram worthy outlooks considering it's the second highest point in the park.
Turk Mountain: If you want to be able to say that you've climbed to a mountain summit, you can do that here at this Shenandoah National Park hike. The elevation gain is only 690 feet, so it's still considered in the easy range on a 2.2 mile path round trip.
Medium/Midrange Hikes:
Dark Hollow Falls Trail: It's a relatively short hike at 1.4 miles down to Dark Hollow Falls, a cascading waterfall over mossy rocks into a shallow pool area right along the edge of the trail. The return trip is quite steep, which is why this choice for Shenandoah National Park hiking is more in the moderate range.
Jones Run Falls Trail: This 3.2 mile hike gains over 1,000 feet in elevation which puts it in the medium difficulty category, but it leads you through a serene forest by a mountain stream to a 42 foot waterfall.
Chimney Rock: Clocking in at 3.4 miles with moderate elevation gains throughout, this pick for Shenandoah National Park hiking will make you break a sweat. You'll find unusual rock formations, beautiful wildflower blooms and breathtaking vistas.
Expert/Long Hikes:
Old Rag Summit: Start early and rest up for this 5.4 mile strenuous hike which takes around six hours to complete. The panoramic views and unique rock features will be worth the hard work.
Riprap-Wildcat Ridge: For another full day out on the trails you could give this hike a try for just under 10 miles weaving through lush forests over multiple mountain streams. This is ranked as very strenuous by the Parks Department, so make sure you're prepared and able.
Nicholson Hollow: This moderately hard eight-mile round trip hike takes you over several stream crossings through the forest and leads you to Corbin Cabin, an old log cabin built by a former resident of yore.
As with any day out in Shenandoah National Park hiking, it's best to make sure you're prepared with the right gear and supplies. Check with us and we can send you in the right direction for picnic supplies and necessary gear before your adventure out in the beautiful Virginia wilderness. And as always, we'll get you fueled up in the morning with our hearty breakfasts.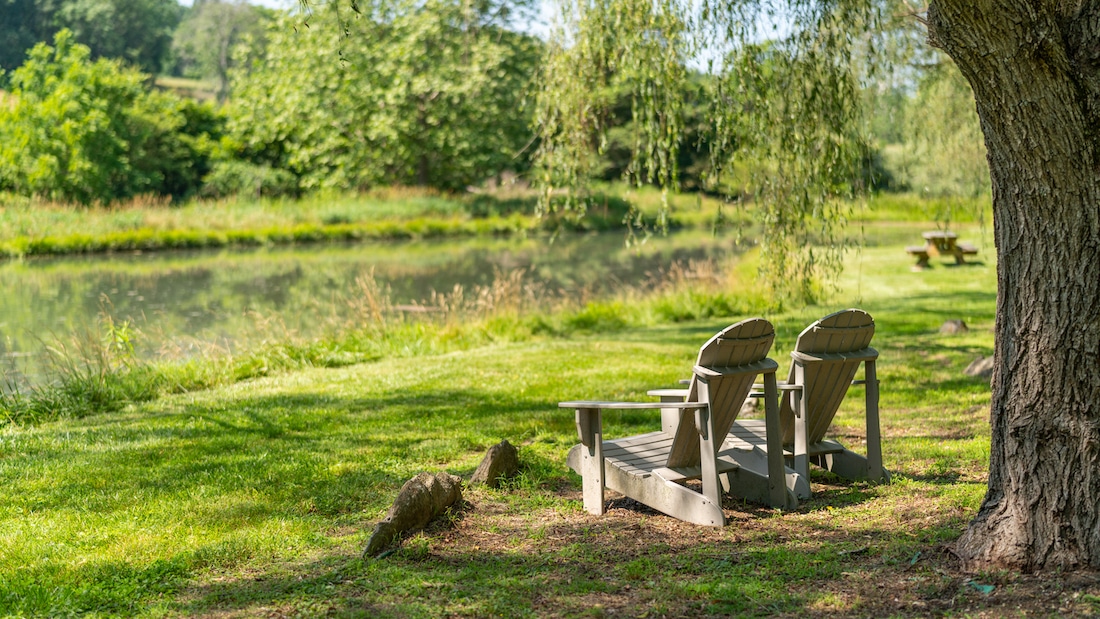 Enjoy Luxury Lodging at Our Shenandoah Valley B&B
After your long day exploring Shenandoah National Park hiking, you'll be so ready to rest up and relax at our Virginia Bed and Breakfast. Our manor is set on 50 acres of rolling verdant grounds, which only adds to the feeling of still being immersed in nature even after you're back from your hiking adventure.
You'll have the choice from our five Manor bedrooms or our five Shenandoah Valley Cabins with hot tubs for the perfect stay. All rooms and cabins offer either a jacuzzi-style bath or walk-in shower for warming up after a long hike. Then there isn't much better in life than curling up with a glass of wine in front of a cozy fireplace with your favorite person. Let us make your next vacation exploring nature the very best we can, check our upcoming availability and book now!