If you're looking for a quintessential winter getaway to see the beautiful Shenandoah Valley or Blue Ridge Parkway, you can't beat staying in one of our luxuriously cozy and romantic cabins in Virginia. What started as three cabins on our 50-acre property, in addition to our generous Manor House Bed and Breakfast, has morphed over the last year into 5 amazing cabins. Surrounded by one-of-a-kind natural beauty, we offer guests a winter getaway they'll never forget.
Our luxurious cabins in Virginia are the perfect place to relax, unplug, and escape the day-to-day stress of our modern lives. But as romantic and cozy as our cabins are, they are also well-situated for you to be able to enjoy the best of the Shenandoah Valley and Blue Ridge Parkway.  Spend your day hiking surrounding trails, viewing wildlife, and taking in the stark winter scenery, or head to downtown Staunton or Lexington and explore the great shops, restaurants, attractions, and more.
Leave the world behind and embrace the quiet solitude of our luxury cabins in Virginia. This winter is the perfect time to do it.  Our luxury Cabins in Virginia book up quickly, so book your winter escape today!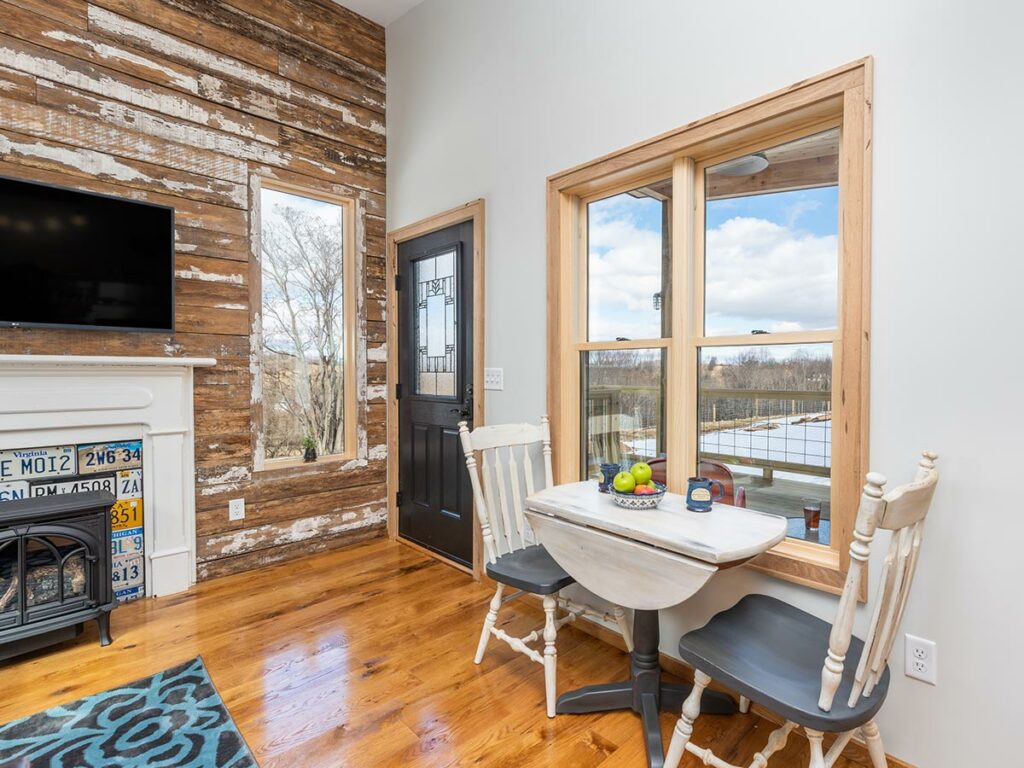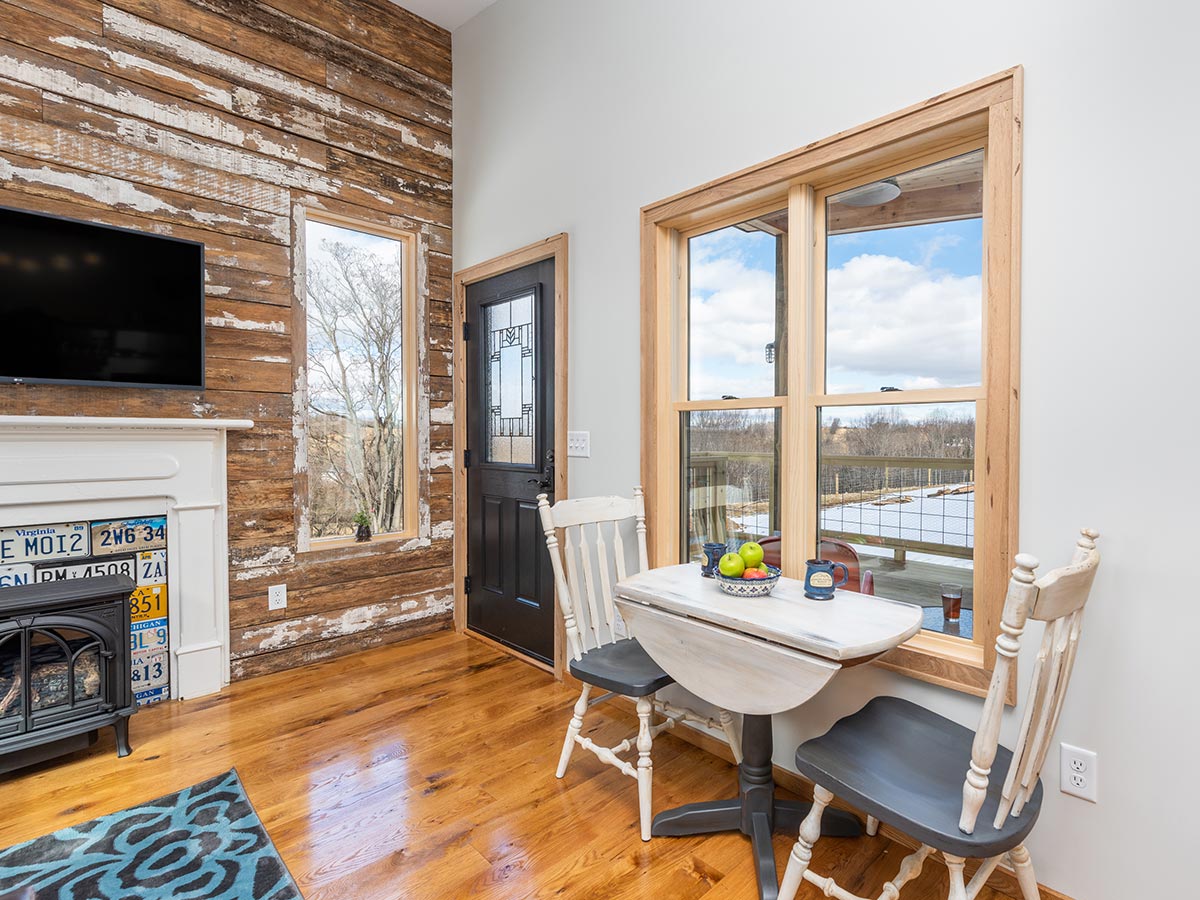 5 of the Best Cabins in Virginia
Our cabins in Virginia truly make a wonderful year-round getaway.  Spring and summer can be spent hiking all over the Blue Ridge Parkway and the nearby Shenandoah National Park, while in fall the same can be enjoyed beneath the fiery hues of autumn.  However, winter at our cabins in Virginia is a pretty magical season, and should certainly be on your list of places to visit.
In winter, the Shenandoah Valley takes on a quiet, magical quality, truly offering a place to relax, unwind, and recenter yourself for the new year ahead. This is particularly true when you add in the private comfort of our luxurious cabins.  The stress will start to melt away from the second you arrive, replaced instead by a sense of peace and solitude you just can't find at home.
We offer guests their choice of five romantic cabins in Virginia, each positioned on our 50-acre property to ensure a private and restful getaway.  Our cabins in Virginia offer a wonderful and intimate alternative to the luxury Bed and Breakfast experience available in our  Manor House.
Each of the cabins has been thoughtfully decorated and offers a king bed, fireplaces, private outdoor hot tubs, full kitchens, gas grills, decks from which to enjoy the beautiful scenery, and so much more.  There are great walking trails around our property, and you even have the option to pre-order breakfast and dinner packages to enjoy during your stay, so there's little reason to leave unless you want to.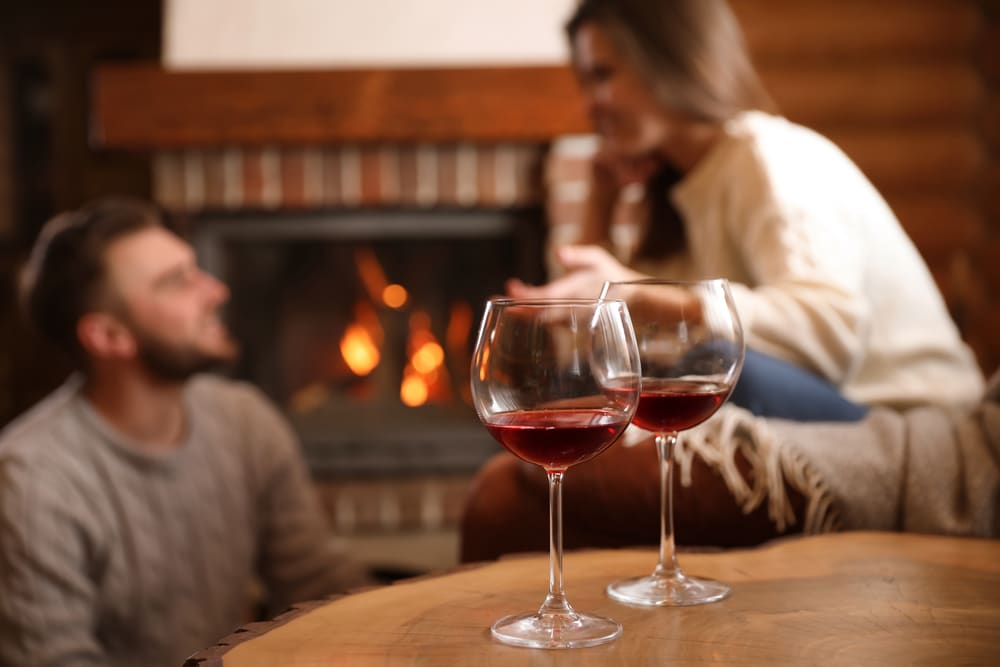 Things to do in the Shenandoah Valley This Winter
Many of our guests like to spend the chilly winter months curled up in front of the fireplace with their favorite book, netflix show, or simply with a glass of wine and their significant other.  Others, however, like to bundle up and head out to explore the beautiful winter wonderland that is the Shenandoah Valley.
Luckily, no matter the reason you've come, there's no shortage of things to do near our incredible Cabins in Virginia. We're boast that we're "in the middle of it all" because from here, you can be in downtown Lexington or Staunton, or out exploring Shenandoah National Park or the Blue Ridge Parkway in just minutes.
If you do decide you want to get out and experience the best of the Shenandoah Valley, here are a few of our favorite things to do in the area this winter:
Take a drive through the Shenandoah National Park.  The entrance to Skyline Drive isn't too far away from Steeles Tavern Manor, and the views of the valley and the mountains during the winter is nothing short of spectacular. It's a great time to see local wildlife, including deer, squirrels, birds, and turkeys, and maybe even a few foxes and bobcats, too.
Another great place to take a scenic winter drive is along the Blue Ridge Parkway.  With the leaves off the trees, you'll enjoy vistas you wouldn't otherwise see.
Go for a hike!  Winter is still a great time to hike, and there are plenty of trails around us, including trails in Shenandoah National Park, Crabtree Falls on the Blue Ridge Parkway, and other trails in the Staunton and Lexington areas.
Have you ever seen a frozen-over waterfall? With cold winter temperatures in the mountains, many of the region's waterfalls either partially or fully freeze over.  It's a spectacular sight to behold!
After a big snowstorm, there is great nordic skiing and snowshoeing to be enjoyed in both the Shenandoah National Park and the Blue Ridge Parkway.
Browse the shops of downtown Staunton, before enjoying a delicious dinner at one of the town's top-rated restaurants. The town's Main Street has been nationally recognized and features over 100 unique boutiques, artisan studios, antique shops, galleries, and restaurants.
Explore the charming downtown of Lexington, filled with quaint shops, plenty of historic architecture to admire, great restaurants, and so many other things to do.
Enjoy a little wine tasting at local wineries, or visit a local brewery for some delicious craft beer. One of our favorites is Rockbridge Vineyard & Brewery.
Every guest who visits our romantic cabins in Virginia is different, which means every getaway to our beautiful paradise is going to be unique.  Whatever it is you want from you're getaway, we'd be more than happy to help you plan it. In the meantime, make sure to carve out some "you" time for our gorgeous cabins in Virginia this winter.  Book your getaway today!