When the turkey has been eaten and the leftovers are finished, it's time to start baking Christmas Cookies!  I remember my Grandmother keeping lots of tins filled with cookies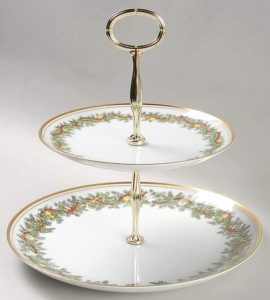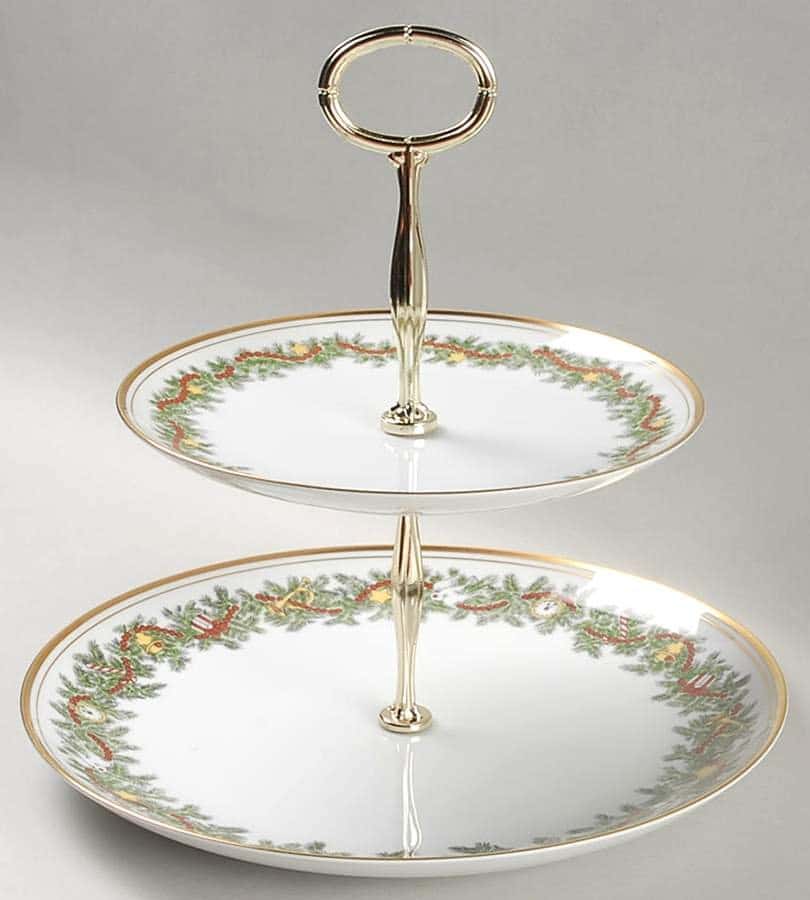 in her bedroom – probably because it was one of the coolest rooms in her house. The time between Thanksgiving and Christmas was special in our family so the good china was used to display and serve the many kinds of Christmas cookies she lovingly prepared. She would carefully place the different cookies on a tiered serving dish like the one pictured here.
Here are two easy recipes for Christmas cookies from my Grandmother to our guests at the B&B. 
Toffee Cookie Bites
24 saltine crackers
1 c butter
1 c light brown sugar
12 oz milk chocolate chips
1/2 c chopped pecans, toasted
Cover a 9×13 pan with aluminum foil. Line with crackers. Microwave butter and brown sugar on high 3-4 minutes, stirring halfway and at the end, until sugar dissolves. Pour over crackers. Bake at 350 degrees for 15 minutes. Remove from oven and sprinkle with chocolate chips; spread until melted. Sprinkle pecans over the top. Cover and chill for 2 hours. Break apart.
These are so delicious and very easy to make! The salt in the crackers and the sweet of the sugar added to the chocolate make these irresistible! Serve at room temp or right out of the freezer or refrigerator!
If you are not a chocolate fan, try these shortbread favorites. They are easy to make, not too sweet, and have a wonderful texture. 
My Scottish Grandmother's Shortbread Cookies
1/2 c butter, softened
2 tablespoons powdered sugar
1 c self-rising flour
1 teaspoon of vanilla
Cream butter, add powdered sugar and beat at medium speed until light & fluffy. Add flour and vanilla. Roll out and cut into squares. Press fork tings into edges for decoration.  Place on ungreased cookie sheets and bake at 300 degrees for 30 minutes.
One year we found all the cookie tins in her bedroom and we knew we'd hit the jackpot. These cookies are delicious and remind me of when we traveled "over the river and through the woods" to visit my Grandmother's house in Pennsylvania. 
You can enjoy some of these cookies here at Steeles Tavern Manor B&B in the Shenandoah Valley. Stay with us during the holiday season and enjoy all the holiday happenings in our area. 
If you are looking for the perfect any-size-fits-all gift, purchase a gift certificate toward a stay at the B&B. You can choose the amount of the gift certificate and the recipient can enjoy all the amenities at Steeles Tavern Manor B&B and maybe a special package too depending on the amount you decide to give.  Gift certificates are a great way to show your love and appreciation to all those people who mean the most to you. Think about giving a getaway gift certificate to your spouse or special someone – then YOU too can enjoy the special time away together. 
The holidays include Christmas cookies and gifts. We at Steeles Tavern Manor B&B are happy to help you solve these two holiday challenges!