As we head further into fall and inch closer to winter, it's the perfect time to think about curling up someplace cozy, sharing intimate conversations by the fire, and enjoying a little bit of romance. This year, discover one of the most romantic getaways in VA and come stay with us at Steeles Tavern Manor.  Our luxurious Bed and Breakfast in the Shenandoah Valley of VA is situated on 50 stunning acres. From here, guests can easily enjoy all of the attractions on the nearby Blue Ridge Parkway and Shenandoah National Park.
Steeles Tavern Manor offers a number of different accommodations, including 3 (soon to be 4) romantic cabins and 5 traditional guest rooms in the Manor itself. Our guest rooms are each luxuriously appointed and include Breakfast in the Manor in the morning. Alternatively, stay at our romantic cabins in Virginia, and treat yourself to a much more intimate and private retreat. Either way, it won't take you long to see why so many consider us to be one of the most romantic getaways in VA.  Come experience the romantic ambiance of this stunning retreat for yourself, and book a room at our Bed and Breakfast in the Shenandoah Valley in Virginia.
Discover the Top Romantic Getaways in VA
When it comes to romantic getaways in VA, you'll be hard-pressed to find something as special as Steeles Tavern Manor.  Whether you prefer to stay in our traditional guest rooms or our romantic cabins, it won't take you long to fall in love with this incredible place. Our guest rooms feature king or queen Beds, electric fireplaces, jacuzzi tubs for two and/or spacious showers meant to be shared, and all of the high-end amenities you expect from a luxury property like ours. In the morning, join us for a gourmet breakfast, made fresh and utilizing local ingredients whenever possible.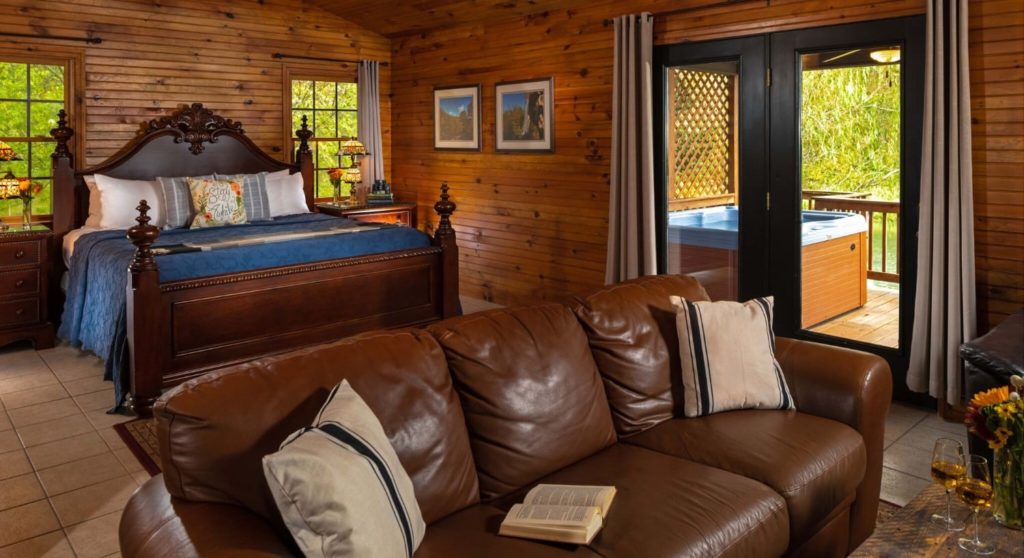 If you're looking for something a bit more intimate when it comes to your romantic getaways in VA, consider staying in one of our three romantic cabins. Each of our cabins has been designed to be a cozy, comfortable retreat.  With cathedral ceilings inside, large walk-in showers, gas fireplaces, and private hot tubs, you'll surely find these cabins have all the makings for an unforgettable romantic getaway.
Our grounds are just as beautiful as the accommodations, too.  Our 50-acre property is tucked into the foothills of the Blue Ridge Mountains, offers visitors a spring-fed pond, walking grounds, a meandering creek, an in-ground swimming pool, and plenty of breathtaking views to enjoy. You're welcome to sit back and relax on one of our porches or decks, admiring the beauty of this part of the world, while enjoying intimate conversation and plenty of time to focus on nothing but yourselves.
This winter, with fewer crowds visiting the area, it really is the perfect time to visit.  You'll feel like you almost have the place to yourself. Take the romance to the next level by adding one of our packages and specials onto your stay.
For example, our "Steele" in Love Romance Package adds a little extra romance to your visit. Enter your room with the smell of fresh roses, toast each other with a bottle of sparkling wine, and treat yourselves to a decadent locally made handcrafted Cocoa Mill chocolates.  These small touches that really can make all the difference. Alternatively, let us pack you a picnic before you head up to Crabtree Falls. When you come back, treat yourselves to a relaxing chair massage by Dana, before retreating back to the privacy of your accommodations.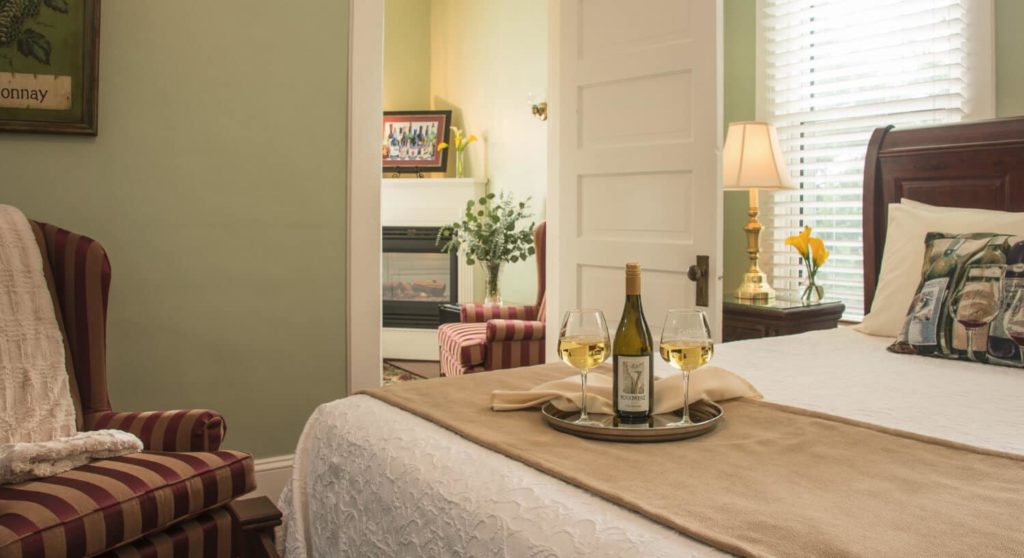 Find Romantic Things to do near our Bed and Breakfast
When you are ready to venture beyond the comfort of our Bed and Breakfast in Virginia's Shenandoah Valley, you certainly won't run out of things to do. Though accommodations truly are an important part of romantic getaways in VA, nearby attractions and activities also matter. We're situated between the exciting towns of Staunton and Lexington, and near both the Blue Ridge Parkway and the Shenandoah National Park. We like to say Steeles Tavern Manor is "in the middle of it all," because it truly is!
There are so many great things to do near our Bed and Breakfast. Whether it's enjoying dinner at one of the many restaurants in downtown Staunton and Lexington, hiking and taking in the scenic natural beauty of this area, wine tasting at local wineries, like Rockbridge Vineyard, or something else entirely, the quaint and walkable downtowns of Staunton and Lexington VA will set the perfect stage to what will easily be one of the most romantic getaways in VA you've ever experienced.
More importantly, the best romantic getaways in VA are filled with plenty of time to just relax, unwind, and reconnect.  That's exactly what you'll find at Steeles Tavern Manor.  Book your getaway today, and come see just how special this place is for yourself!