Your summer getaway to Steeles Tavern Manor B&B can include an opportunity to relax and "chill" in the cool waters of two nearby rivers. Kayaking, canoeing, tubing, and swimming are as close as the Maury River or the James River – each just about 30 minutes from our B&B.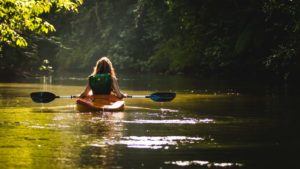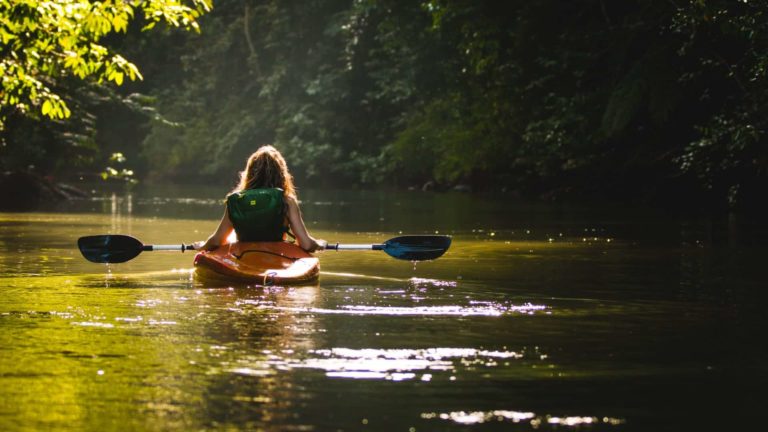 The Maury River starts and ends in Rockbridge County. It may not be a very long river, but it has fun spots for some white water rapids and for some quiet floating and swimming holes.  If you enjoy a thrill ride through rapids, the place to experience the Maury River is through Goshen Pass. This six-mile run of white water includes two spots of Class IV white water: Devils Kitchen and Corner Rapid. The period from March into June is usually the best time to race through this area but with the higher rain levels we've had this year,  the water may still be racing during the 4th of July weekend. Continuing down-stream, the river then meanders from Lexington to Buena Vista and the quieter waters gives you an opportunity to spot interesting wildlife along the shore. Paddlers will sometimes see herons fishing for dinner, coyotes and minx along the route, and even bald eagles overhead. 
The Maury River dumps into the James River near the town of Glasgow.
The section of the James near Glasgow is known as the Upper James River Water Trail and is mapped and described in detail so you can find many points of interest along the way. There are a number of public access points mapped out on the James River. What an experience you will have when paddling with fish below you, birds above you, and other wildlife on the banks watching you paddle or float by. This section of the river has a few Class I and Class II rapids to add a little excitement to the ride! 
There are several local Outfitters that will be happy to rent you kayaks, canoes, and tubes for your adventure on the water! Twin Rivers Outfitters in nearby Buchanan, VA can provide you with everything you need for a day – or two – on the James or Maury Rivers. Wilderness Canoe Company is located in Natural Bridge Station, VA. 
You may have heard the phrase "we all live downstream." When you are paddling or floating on the Maury or James River, please  help us take care of this natural resource by taking your trash with you. Leave only wakes in the water and footprints on the shoreline.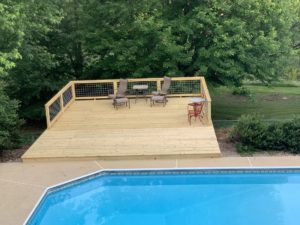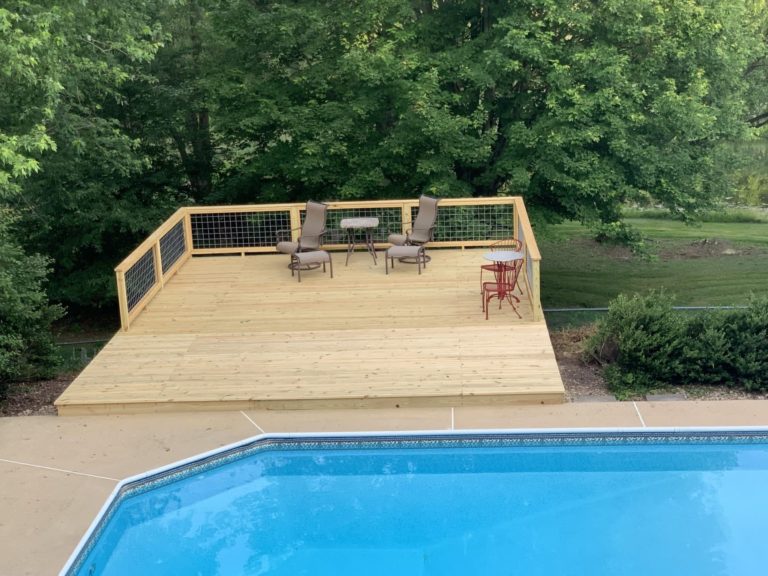 If you want to stay closer to the B&B, simply go out to the back of the manor house and enjoy swimming in our "cement pond"!  We have been working hard to expand our deck around the pool. The new deck area will provide more social area for guests and some great space for soaking up some vitamin D (remember to use sunscreen!). We are planning a deck party to celebrate summer and the Grand Opening of the new deck!
Make your reservation to stay at Steeles Tavern Manor B&B to enjoy a few days of "water therapy".