We often say Steele's Taven Manor is at the heart of it all because it's true.  We're located between the two incredible cities of Lexington and Staunton, VA. We're near both the Blue Ridge Parkway and Shenandoah National Park, right in the heart of the very best of the Shenandoah Valley.  Fall is just around the corner, which means now is the time to plan to see fall foliage in the Shenandoah Valley.
Fall Foliage at both Shenandoah National Park and the Blue Ridge Parkway is sensational and very popular.  If you want to see this area ablaze with the vibrant hues of fall, then you really should start planning your getaway soon.  There's nothing that beats the cabins or luxurious manor rooms at Steeles Tavern Manor when it comes to lodging in the Shenandoah Valley.
Many of our cabins are booked out for the fall season already – as they tend to book up well in advance.  However, there's still plenty of space left in our manor rooms, as long as you act quickly.  Weekends are looking pretty full, but there's space if you can be flexible and get away midweek, which also happens to be a less crowded time to be in the parks and on the trails!
Whenever it is you come to visit, we hope it's going to be soon.  Gear up for fall foliage and book your room at our luxury Shenandoah Valley Bed and Breakfast today!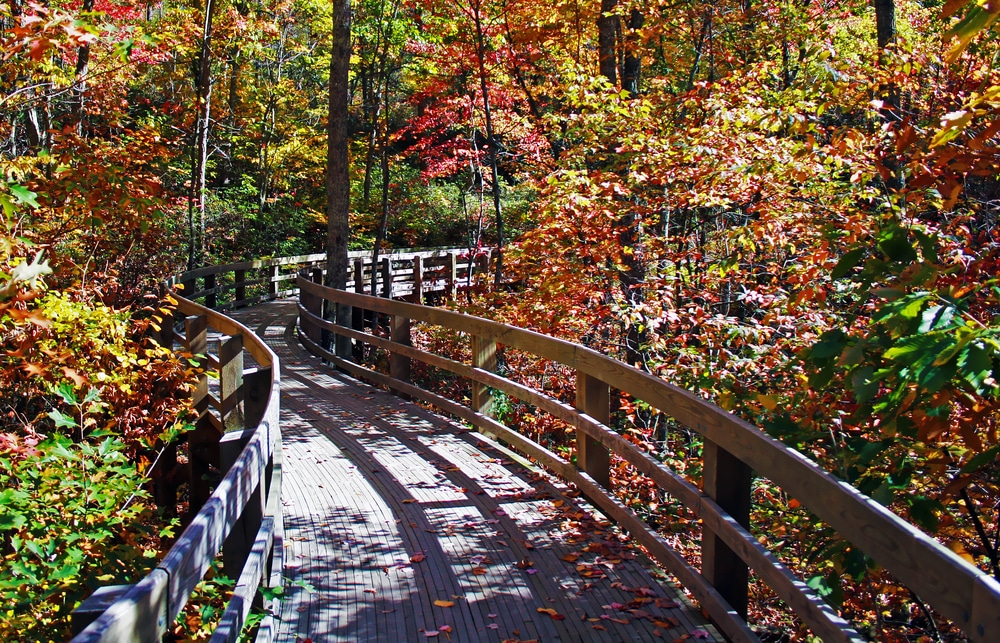 Fall Foliage in Shenandoah National Park
Shenandoah National Park, which is about an hour north of our Shenandoah Valley Bed and Breakfast, is one of the most beautiful parks in the county. Especially so when fall foliage comes into full view.  Peak fall foliage season in the Shenandoah Valley starts in early October and stretches throughout the month. It's a longer leaf-peeping season than in other parts of the country, though, with fall colors visible from mid-September through mid-November in areas.
Taking a scenic drive along Skyline Drive is by far the most popular way to enjoy Shenandoah National Park's fall foliage. Skyline Drive is a beautiful 105-mile route through the heart of the park. To drive from end to end, expect to spend about 3 hours, depending on how much you stop.  Of course, busy fall weekends can also mean this trip takes a bit longer. There are 75 overlooks along the drive, though, ensuring you'll get some of the best views of those vibrant reds, oranges, and yellows of fall.
Hiking is also a great way to get up close and personal with the park's foliage. We listed some of our favorite Shenandoah National Park hiking trails in a previous blog, all of which would be spectacular in the fall. The Stony Man Trail is one of the most popular.
Fall Foliage on the Blue Ridge Parkway
Last fall, we wrote a blog about the best places to see fall foliage on the Blue Ridge Parkway.  Click here to read the full content, but below, we've included the top highlights along this incredible stretch of road, which just so happens to be one of the most popular scenic drives to take in the fall. We've focused on the Blue Ridge Parkway features within 90 minutes or so of our Inn, but of course, you're always encouraged to explore further.
However you choose to enjoy the vibrant fall foliage of the Shenandoah Valley, the comfortable accommodations and welcoming hospitality will be waiting for you at Steeles Tavern Manor.  Guests staying with us in the manor will enjoy a delicious breakfast made fresh for them each morning, which is the perfect fuel for your next adventure.
At the end of your day, put your feet up and relax in our gorgeous guest rooms, taking full advantage of the scenic beauty of our 50-acre property. Don't miss your chance to see one of the most beautiful fall destinations. Please book your room at our luxury Shenandoah Valley Bed and Breakfast today!